Super FNaF 2: Wonderful Day
SUPER FNAF 2 IS STILL IN DEVELOPMENTS U M M A R YSuper FNaF 2 is a retro 16bit platformer featuring
SUPER FNAF 2 IS STILL IN DEVELOPMENT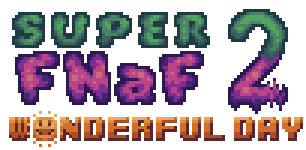 S U M M A R Y
Super FNaF 2 is a retro 16bit platformer featuring various characters and locations
all across the FNaF universe, mainly focusing on the cast and story of FNAF:SL.
The game features a new story set in the FNaF universe, and is not a retelling of FNaF Sister Location.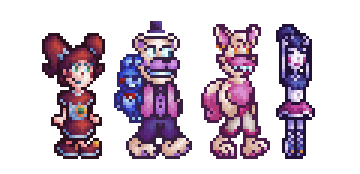 S T O R Y (?)
Oh no! The vile Lord Vladimir has kidnapped Baby's audience! Now she has to go on a quest with the help of her trusty circus crew to defeat this sudden new foe, save the kidnapped kids and discover the reason behind his sudden appearance.
F E A T U R I N G
a brand new story

clean 16 bit art style

sidescrolling platformer gameplay

a colorful cast of characters

many detailed pixelart environments

an authentic SNES soundtrack with original tracks and covers alike

many hours of playtime and replayability
F A Q
When will the game be available?
There is no date set in stone at this point in time,
but it won't be much longer.

Will I have to pay for the game?
No! It's completely free.
If you'd like to support me financially however, consider donating to my kofi!
https://ko-fi.com/lsfdev

Will (insert scenario from any FNaF game) happen in this game?
I am not confirming anything at the moment, but the game will showcase takes on the latter half of the FNaF series and tells its own unique story doing so. The game won't be accurate to yours or anyone else's current interpretation of the lore and doesn't aim to do so.

Will there be an android port?
Highly unlikely. I don't believe having a platformer with a complicated control scheme and precision timing on your mobile phone could work, unlike classic FNaF games which are perfect for touch screen controls.

What do I use for the game's pixelart?
I use "pyxel edit" for all of my pixelart and animations.

What engine is this game made in?
The game is being coded in Game Maker Studio 1.

Is there a SFNaF Discord server?
Yes, there is! https://discord.gg/jzKtgxP
C R E D I T S
LSF - Director, Sprite Artist, Level Designer

DFS - Programmer

KungFuFurby - Composer

Heraga - Level Designer

Ritter_Draws - Digital Artist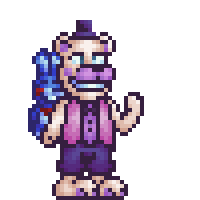 Related Navigation