#roguelike
Defentures
Follow Defentures: Website | Reddit | Twitter | Instagram | Discord | Facebook |SteamHi! My name is
Follow Defentures: Website | Reddit | Twitter | Instagram | Discord | Facebook |Steam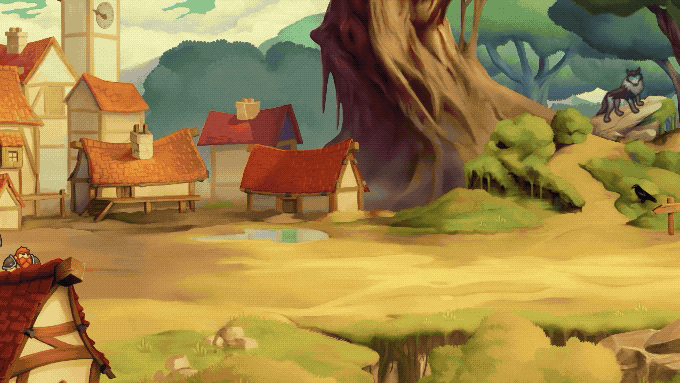 Hi! My name is Andrey (present on different sources under hromoyDron nickname). This is my first game. I hope you will like it and we'll make this game better together!
Defentures - nostalgic defense mid-core side-scroll strategy for all fans of the dwarves. Fight with hordes of enemies in the spirit of old computer strategies and old favorite flash defense games! Inspired by Kingdom Rush.

The game is under development. I plan to release it on Steam for the PC platform. Before it, Defentures will appear on Kickstarter (winter 2020). Be sure you follow announcements to help me with crowdfunding successfully.

👀 Dwarven squads
Lead the brave dwarves on a dangerous journey to reach treasures. Different types of warriors have their advantages and disadvantages, which will affect the tactics of battles with numerous enemies waiting on the way.
👀 Smart enemies
Each enemy has his own set of skills, which he will certainly use during the battle. So you have to change the tactics and decide quickly which type of the units to send to fight before each enemy attack. Bosses are damn hard to fight with!
👀 Active background
Each location has its own mechanic. Brave amazons hide in the forest, the leader of the wolf pack is seated on the rocky ledge. Use the game environment as your advantage!

Guilds with their unique abilities will come to help you on this dangerous journey. If you're not too lazy to finish some special quests for them, of course! Quests are in fact a mini-game that can briefly distract from the hardships of the campaign and dilute the everyday life of the dwarf king.

In guilds, you can receive special assignments with new mechanics. Do you want to lead the orcs? Or become a magister of magic? Well, or to rob caravans?
👀 Dwarven powers
Pump your dwarves as you like. Adjust to the incoming wave of enemies. Do you want a dwarf thief? What about a master of swords with crit hits? Or maybe a golem summoner? No problem!
👀 A lot of skills
In addition to dwarf upgrades in the locations, you have various permanent skills. To open them you will have to prove worthy in battles. And for the most interesting you'll have to sweat in guilds. Calling meteor showers or being a berserker is not easy.

Fight, pick up the right tactics, upgrade your squad, study opponents, use magic, guild skills, merchants' items... Ohh! Then you will find out where the adventure road leads your bearded warriors.

Tags
#defense #defence #towerdefense #towerdenfence #dwarf #gnome #magic #offence #war #warriors #rts #strategy #strategydefense #tactic #upgrade #skills #skilltree #singleplayer #fight #rpg #adventure #player #experimental #indie #indiegame #free #demo #oldschool #trophy #trophies #achievement #achievements #easy #medium #hard #performance #cool #awesome #action#roguelike #strategy
Related Navigation