#altgame
Imagine Lifetimes
The Imagine Lifetimes - Deadly Edition version 2.0.3 is now availableYour purchase here on Game Jolt
The Imagine Lifetimes - Deadly Edition version 2.0.3 is now available
Your purchase here on Game Jolt will come with a complimentary Steam key! <3
---
The Imagine Lifetimes - Early Edition version 1.1.2 will remain available for free
---
Imagine Lifetimes is a satirical simulation game about the meaning of life. Shape your path through a series of life-changing decisions as you choose your way to the end.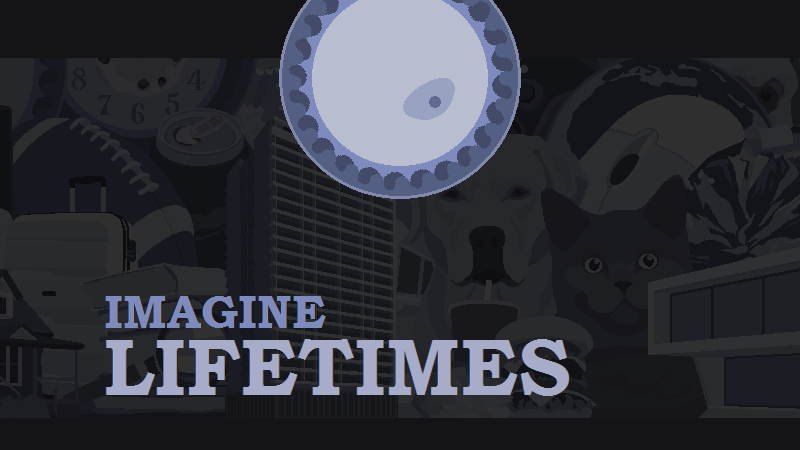 Features
Explore a wide variety of ever-changing paths and endings

Choose wisely, every choice has the potential to affect your lifetime

Question the absurdity of existence as you figure out what it means to be alive
---
As in real life, two randomly generated parents define your character through genes. Born with the ability to choose, your actions and decisions shape the paths ahead of you.

---
I've been working on Imagine Lifetimes for nearly five years. This project once started as a simple jam game called A Lifetime of Realistic Simulations here on GameJolt. Now, years later, it has grown into something beyond what I could have ever imagined.

Thank you so much for supporting the Imagine Lifetimes development journey!

---
Join the Discord and come talk about the game, share your thoughts and pitch your ideas! You can also use this channel to report any bugs you might run into.
---
Target Platforms
---
---
This game may contain traces of irony, skepticism and dark humor.
#life #simulation #strategy #altgame#pointnclick #other #survival
Related Navigation